Storm systems leave LawCo. drenched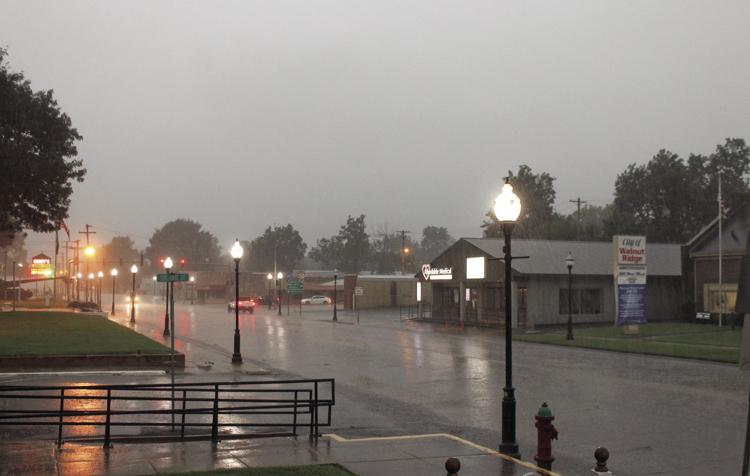 Starting with the remnants of Hurricane Laura on Thursday, Lawrence County saw several waves of rain and wind over the weekend and into the beginning of the week.
Heavy rain falling on Tuesday morning led to the issuance of a flood warning by the National Weather Service.
County Judge John Thomison said with all the rain, there is some road damage with displaced material.
"We only had one pipe wash out, and that was at Powhatan," he said. "We were able to put it back in on Monday."
The rest of the repairs will have to wait for the weather to clear.
"We want to get in there and fix it, but have to wait for the rain to subside," Thomison said of the roads that have had damage. "We know we have some rough spots, as soon as weather will let us we will address those needs."
Thomison said with the heavy winds, there were also quite a few trees down, though he said they were surprised to have more down over the weekend than they had down on Thursday when the remnants of Laura moved through.
"We moved a tree or two on Thursday," he said, "But we had quite a few down on Saturday."
He said the county had no reports of structural damage.
"Now we're watching this rain here and what it's going to do to us," he said on Tuesday morning.
Crops not hit as hard as expected
Lawrence County Extension Agent Bryce Baldridge said Lawrence County's harvest will be delayed, but the damage farmers were preparing for from Laura was not nearly as bad as anticipated.
"We got lucky with Laura that it didn't blow more rice down," he said. "As long as we don't get any heavy winds, I'm hoping this is just a delay for harvest."
He said harvest is a little early this year, so the timing for all this rain is bad.
"Some had got a little corn out," he said. "That early rice, needs to get out of the field. We don't want to have losses due to shattering."
He said farmers now are hoping for the rain to move out and there to be no heavy winds or major storms.
"We were expecting a lot more damage from Laura than we actually got," he said. "So we are smelling like a rose right now. We just need it to dry up."